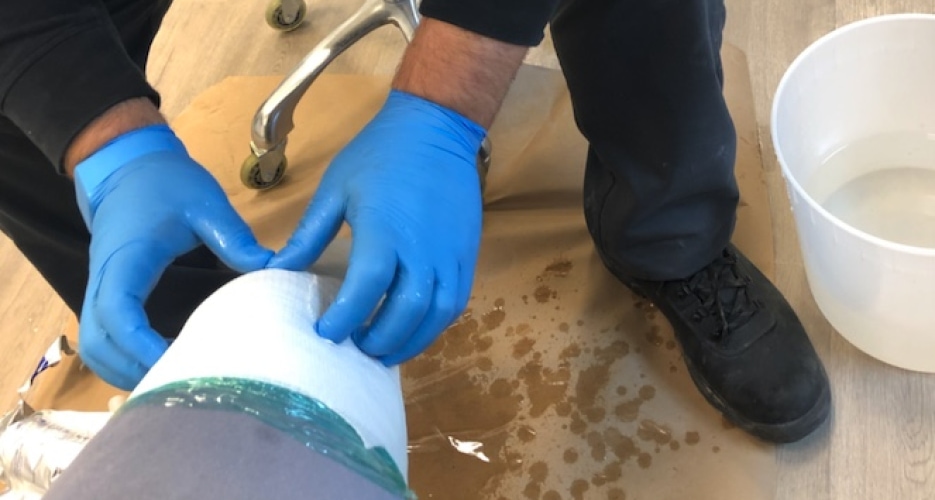 What to expect on your visit to the Limb Kind Prosthetic Center
This visit gives both us a chance to get to know each other, learn all about what brings you to us, and for us to discuss a possible plan of action for your care. You will get to talk to our professional insurance team about what your benefits cover, and how we can make things happen for you, stress free.
This is the day that we take a cast impression and/or measure your residual limb. Casting material is wrapped around your limb, and then the cast is removed when it becomes rigid. This cast is used as the base for making your prosthesis. Be prepared to wear appropriate clothing for this day that either makes it easy for us to cast and measure you in. We will explain the procedure every step along the way, but ask as many questions you may have so you feel comfortable with the process. The cast or measurements ensure the most snug and intimate fitting prosthesis possible.
On fitting day, a prototype of the prosthesis will be fit on you to ensure that it fits, functions, and aligns the way we all are desiring the prosthesis to be. This essential visit can decrease the possibility of future problems you may encounter down the road. If the Prosthetist feels that another fitting is necessary as we strive for perfection, we eagerly will do so. If another fitting is needed, it is for your benefit to ensure success.
On Delivery day, you will be receiving the prosthesis and taking it home with you. We will betaking our time making sure that everything fits, functions, and looks the way we planned and discussed with you. Once this is accomplished, we will go through all the procedures that you will need to take home with you for a successful outcome, including the following...
Wearing schedule
How to put on and take off
How to use properly
How to clean all parts
Maintainance of the device
How to deal with shrinking and swelling
Basic gait training